Introduction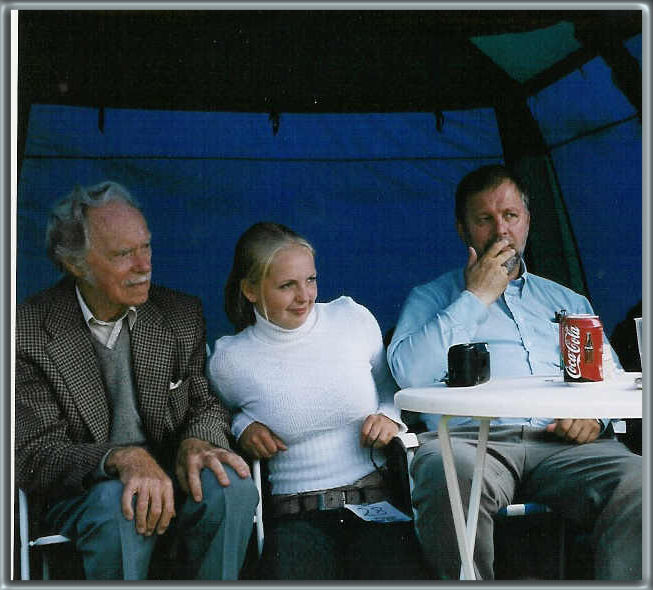 "Without doubt Kennel Ben Huri constitues the solid base upon which Shamali rests." Nils-Lennart Olsson, owner of kennel Ben Huri, together with Elin and Christer at Tammsvik, sharing points of view about the breed and Sighthound Show.
The first Shamalilitter was born in 1980, many years ago. Since then the Una-line of bitches has been lost and with Una the lines of her daughters, the two beautiful sisters Rihla and Rasila. Rihlas daughter Ummi never produced a daughter but only a son, Calif, who to add injury to pain died much too young in cancer. And Rasilas daughter Yamina never produced a brood bitch. Other lines of bitches were lost without even having had the chance to continue their own line like Tamara and Duwaliya or who didn't have quality to produce, like Sarawi and Zibaq. To loose broodbitch-lines during the development of the breeding work is the fate for most breeders who still continue after many years of hard work and is only natural.

At the moment Shamali is based on the foundation-bitch Zohari Zari-ba- Yefa (see Shamali brood-bitch line). The bitches in this line had/have a very calm and intelligent nature. They had/have feminine and beautiful heads and further, their good and balanced bodies have been very typical for these brood bitches.
Shoulder angulation and movement has improved over the years within the brood bitch line, while still other good qualities may have been more or less lost. This represent the continuing struggle that is the fate of a breeder. On the whole it has been a pleasure to keep these brood bitches, as it has been a joy to live with them.
The foundation male Int. Ch. Ben Huris Wadj Karmaz is still represented on the male side by his son Int. Ch. Shamali Rayyan Hilal (son of Una) and as the kennel still has sperm from Rayyan there can still be some grandsons of Wadj produced at Shamali salukis. As things stand at the moment Shamali is supported by two males, firstly our own Sedeki Lale Zar and secondly by Int Ch El Hamrah Rammah Sahir. Lazars son Shamali Fajr al Nasr is father to the only bitch that Shamali has who isn't from the Shamali broodbitch-line, Ritzas Shamsin. Through his daughter Gazila Int Ch El Hamrah Rammah Sahir (Rammah) now has the main influence on the broodbitch-line.
The father of Elishama, Int Ch Khalis Qasr Umm Ain still has a lot of influence on the youngest brood bitch-to-be Shamali Ismah al Lail bint Gazila (Ismah), whose father is Nord JW-07 Al-Shên Raadin Al Rafiiq.The following males has been the fathers to the present Shamali brood bitch line; Zari (Zohari Zedekiah), Qherun (Wadj), Walda (Charmoon), Aqila (Rayyan), Elishama (Qasr) and Gazila (Rammah).

It is on the base of the Shamali broodbitch line and the males mentioned above that Shamali stands at the moment and it is the breeding of Shamsin and Ismah that will decide where Shamali will go in the future.